---
Solutions
for the future
By using our passion and knowledge, we aim to make our fish- and plant based products even more accessible to a larger group of consumers and customers.
---
---
Mission, vision and strategy
What motivates us?
We believe in all the good from the sea as well as from land. Many of us grew up with fish, but choose plant-based options more and more. That is what we have done too.
By using our passion and knowledge, our aim is to make our fish- and plant based products even more accessible for a larger group of consumers and customers. We are working on innovative and competitive solutions together with our chain partners and our subsidiaries. We offer healthy and sustainable fish and plant based products for the consumer of today as well as tomorrow.
Whatever we do, we always take responsibility for our impact on people, fish and climate.
Our strategy has been captured in our Strategy House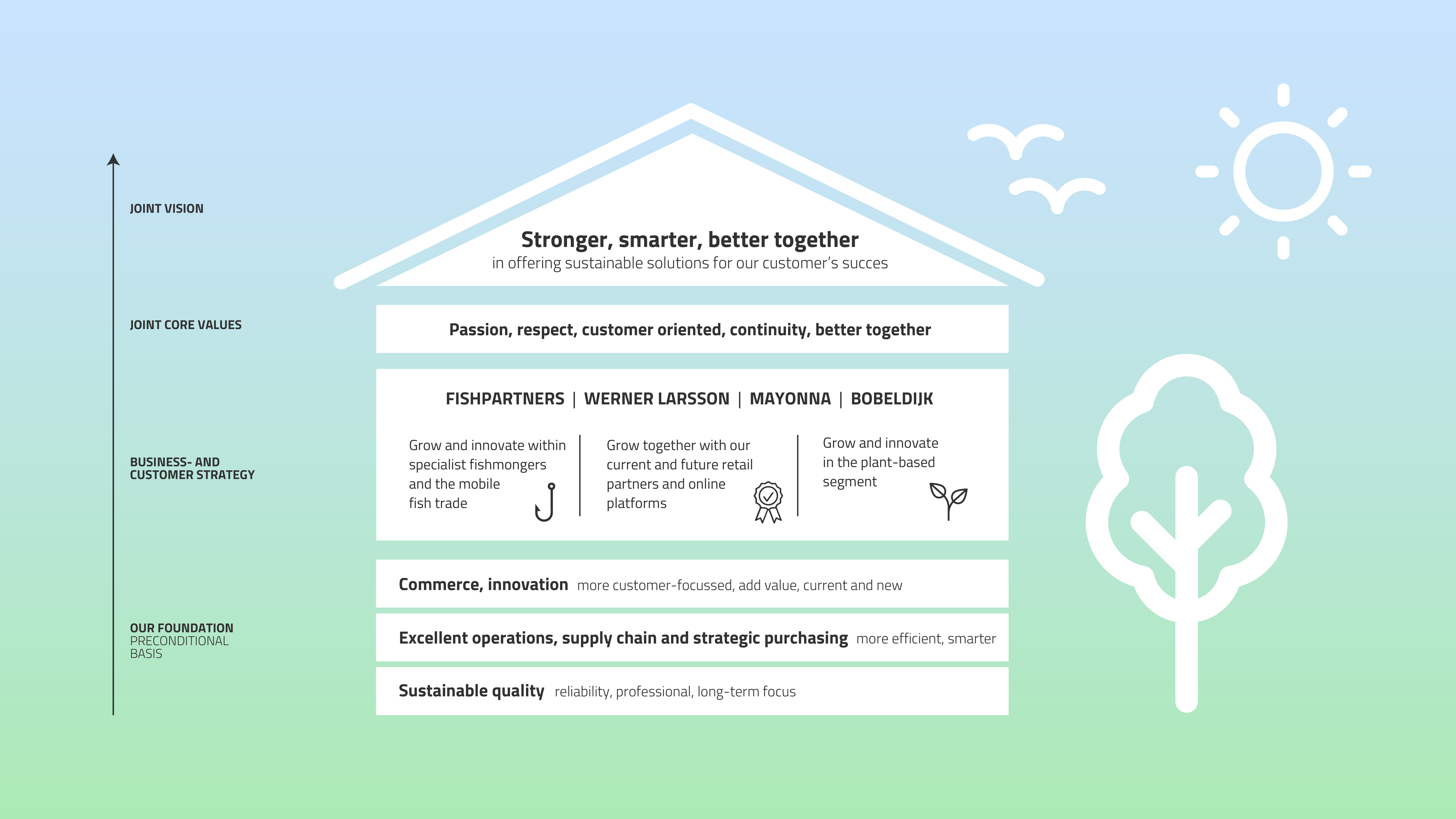 ---
Core values
Passion, respect, customer focus, continuity, better together: these are our core values.
Passion, credibility and respect for business partners, colleagues and for our products are the pillars of our history. We value sustainable relationships and cooperations more than short-term gain. These core values will keep guiding the Kennemervis Group into the future.

Passion in everything we do
Our roots are in the typical fishing villages of Spakenburg, Urk and Skagen. We grew up with the fishing industry. It is no surprise that we are proud of this beautiful, healthy and tasty natural product as well as our trade. Our enthusiasm shines through in everything we do. This sometimes comes with a lot of noise, but is always with the right intentions. We keep up on our knowledge and look at changes and progress with an open mind. We are progressive when it comes to introducing new (fish)concepts and offer plant-based options too. Yes, we are a unique company.

Showing respect comes naturally
Reliability is a great asset: we say what we do and we do what we say. We are honest, straightforward and sincere and accept each other and each other's opinions. We listen; try to understand the unknown, ask open questions, have constructive discussions and love to give and receive feedback. Sometimes the feedback is outspoken, but always with the right intentions. We appreciate it when you say what you think or feel; when you dare to stand out.

Customer focus is a fundamental approach
Our customers come first. We want to help them excel and help them win in their market and with their customers. That is why we keep focusing on their needs. We do that by actively working together with all links in the chain, to be approachable, contact people ourselves and proactively find solutions or ideas for new opportunities. In short, we know our customers through and through, and they know us. Expectations are there to be exceeded.

Better together, stronger together
How can we improve even further? This question cannot be answered without working together, we can't do it on our own. We must put ourselves in a vulnerable position in order to improve. Other ideas and feedback are key in this, we also share these with colleagues and business partners. There is no I in TEAM. We stimulate cooperation – both within the company as well as with customers, suppliers and other stakeholders – in order to achieve better results, and take important decisions together.

Continuity is key, always
Kennemervis Group is a family company, which is noticeable in the way we work. To be a healthy, successful business is in the best interests of everyone involved. We work based on a plan, know our role, know what is important and act accordingly. We nurture long-term relationships and partnerships and we care for our colleagues and their development.
If you take your responsibility, you can grow with us. By being innovative and showing entrepreneurship, we stay alert and take our chances in the market for both current consumers as well as future consumers. We strive for day-to-day excellence at the lowest costs, without compromising on safety, sustainability and quality. This way, we add value to the market and take responsibility for our impact on people, fish and climate.